LONDON — The European Union is reportedly preparing emergency curbs on Ukrainian food products after several member states bordering Ukraine imposed their own import bans in recent days, complaining that a glut of cheap produce is hitting their own farmers.
Following a virtual meeting with EU officials on Wednesday, Romanian Minister of Agriculture Petre Daea outlined the bloc's plans.
"The [European] Commission is making available to the five countries [Bulgaria, Hungary, Poland, Romania and Slovakia] 100 million euros [$109.32 million] from its crisis reserve. … It provides for the activation of exceptional safeguarding mechanisms, which means stopping imports until June 5 for the following products: wheat, corn, sunflower seeds and rapeseed," Daea told reporters.
He added that the deal would be made available only when member states had withdrawn their own unilateral import bans.
The EU has yet to confirm details of the planned support package.
The EU has yet to confirm details of the planned support package.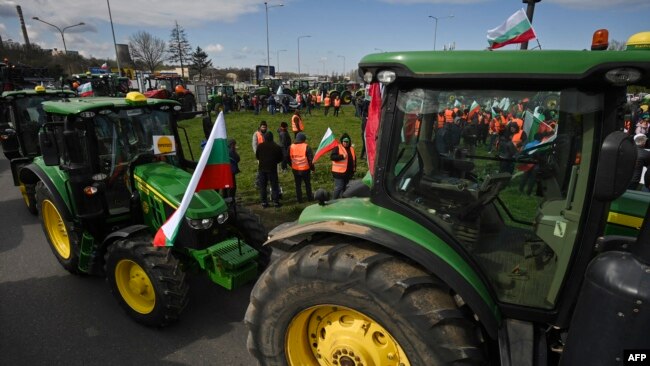 Ukraine grain
Ukraine, the world's fifth-biggest grain exporter, has struggled to ship agricultural produce from its Black Sea ports to world markets following Russia's invasion last year.
The European Union ended quotas and tariffs on Ukrainian goods after the outbreak of the war to shore up the Ukrainian economy. Eastern European states claim this has led to cheap grain imports being dumped on their domestic markets.
In the past week, Poland, Hungary, Slovakia and Bulgaria have banned the import of Ukrainian grain and other products, in an apparent breach of EU trade law. Bulgarian Prime Minister Galab Donev said Wednesday that the measures were necessary.
"A significant amount of [Ukrainian] food has remained in the country and disrupted the main production and trade chains," Donev told reporters. "If this trend persists and even increases, it is possible to reach extremely serious consequences for the Bulgarian business."
Polish Prime Minister Mateusz Morawiecki outlined a $2.4 billion support package for farmers and said the European Union response had been inadequate.
"What the EU is offering us is offered with a delay; it is too little, a drop in the ocean of needs," Morawiecki told a news conference Friday in Warsaw.
Protests
Farmers have staged protests in several countries bordering Ukraine, including Romania.
"Our fear is that this unfair competition coming from our colleagues in Ukraine cannot be borne by the Romanian farmers. We will witness a chain of bankruptcies of Romanian farmers," warned Liliana Piron of the League of Romanian Agriculture Producers Associations at a protest in Bucharest earlier this month.
Brussels warned this week that the import bans violated EU law.
"Unilateral action is not possible under EU trade policy," European Commission spokesperson Miriam Garcia Ferrer said Wednesday. Nevertheless, it appears the EU is preparing to approve emergency curbs on Ukrainian imports for certain countries.
Domestic politics
The dispute has taken many by surprise, said Ian Bond of the Centre for European Reform, an analyst group.
"In the case of Poland, what's so strange is that this is so much at odds with the assistance that Poland has given Ukraine in other ways," Bond told VOA.
"So, this is entirely driven by domestic political considerations to do with protests by Polish farmers, and the risk that government obviously feels that the farmers might defect and vote for some other party in the next elections," Bond said.
Ukraine reaction
For Ukrainian farmers, the import bans add to the troubles caused by Russia's invasion. Volodymyr Bondaruk, executive director of the Pearl of Podillia, a mixed dairy and arable farm near Ternopil in western Ukraine, said, "I would like farmers and the agricultural lobby in the Eastern [European] countries to understand that we face similar problems. We don't ask for subsidies; we don't want anything like that. Just help us to sell our goods," Bondaruk told Reuters.
"We have leftovers from the 2022 harvest. In the previous years, we exported a lot of corn, wheat and other grains to the Middle East countries, African countries. But today because of the war, ports do not accept large amounts of goods," he added.
Black Sea
The glut of Ukrainian grain in Europe is the result of reduced exports through the Black Sea since Russia's invasion. A deal brokered by the United Nations and Turkey to reopen the shipping route, known as the Black Sea Grain Initiative, came into force last August. However, Russia is threatening to end the deal when it's up for renewal next month.
The ban on imports of Ukrainian grain by some countries in Europe could play into Moscow's hands, analyst Bond said.
"It seems to me that this increases the chances that Russia will see this as a pressure point and will try to use it as a way of saying, 'Well, we're not going to renew the grain deal unless you agree to completely unacceptable conditions.'"
While its domestic import ban remains in place, Poland resumed the transit of Ukrainian products across its territory on Friday.
The European Union said it planned to organize alternative transport, including convoys of trucks, trains and barges, to take grain from Ukraine's land borders to ports where it could be shipped to the world market.
Source : VOA News