Troubled banking giant Credit Suisse says it will borrow up to 50bn francs ($54bn; £44.5bn) from the Swiss central bank to shore up its finances.
The lender said it was taking decisive action to strengthen its liquidity as it looked to become a simpler bank.
Shares in Credit Suisse fell 24% on Wednesday after it said it had found "weakness" in its financial reporting.
This prompted a general sell off on European markets, and fears of a wider financial crisis.
Credit Suisse said its borrowing measures demonstrated "decisive action to strengthen [the bank]".
"My team and I are resolved to move forward rapidly to deliver a simpler and more focused bank built around client needs," Credit Suisse's chief executive Ulrich Koerner said in a statement.
Problems in the banking sector surfaced in the US last week with the collapse of Silicon Valley Bank, the country's 16th-largest bank, followed two days later by the collapse of Signature Bank.
After Credit Suisse shares plunged on Wednesday, a major investor – the Saudi National Bank – said it would not inject further funds into the Swiss lender.
The worries spread across financial markets with all major indexes falling sharply.
"The problems in Credit Suisse once more raise the question whether this is the beginning of a global crisis or just another 'idiosyncratic' case," wrote Andrew Kenningham of Capital Economics.
The Swiss National Bank, which is Switzerland's central bank, and the Swiss Financial Market Supervisory Authority sought to calm investor fears, saying they were ready to help Credit Suisse if necessary.
Strict rules apply to Swiss financial institutions to "ensure their stability" and Credit Suisse meets the requirements for banks considered systemically important, the regulators said.
"There are no indications of a direct risk of contagion for Swiss institutions due to the current turmoil in the US banking market," they said in a joint statement.
The BBC understands that the Bank of England has been in touch with Credit Suisse and the Swiss authorities to monitor the situation.
Credit Suisse, founded in 1856, has faced a string of scandals in recent years, including money laundering charges and other issues.
It lost money in 2021 and again in 2022 – its worst year since the financial crisis of 2008 – and has warned it does not expect to be profitable until 2024.
Shares in the firm had already been severely hit before this week – their value falling by roughly two-thirds last year – as customers pulled funds.
The bank's disclosure on Tuesday of "material weakness" in its financial reporting controls renewed investor concerns.
These were intensified when the chairman of the Saudi National Bank, Credit Suisse's largest shareholder, said it would not buy more shares in the Swiss bank on regulatory grounds.
At that time, Credit Suisse insisted its financial position was not a concern. But shares in the lender ended Wednesday down 24%, as other banks rushed to reduce their exposure to the firm and prime ministers in Spain and France spoke out in an attempt to ease fears.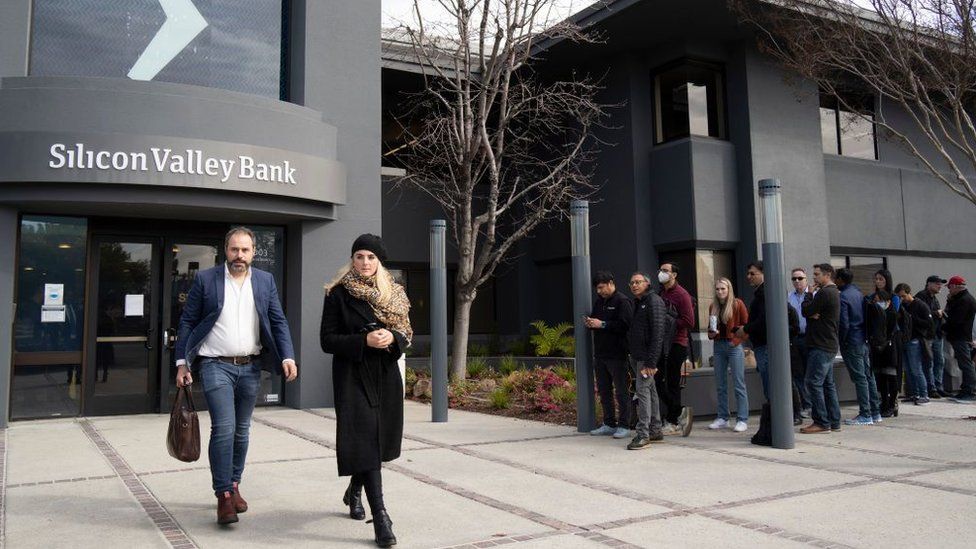 This comes after Silicon Valley Bank (SVB) – which specialised in lending to technology companies – was shut down on Friday by US regulators in what was the largest failure of a US bank since 2008. SVB's UK arm was snapped up for £1 by HSBC.
In the wake of the SVB collapse, New York-based Signature Bank also went bust, with the US regulators guaranteeing all deposits at both.
However, fears have persisted that other banks could face similar troubles, and trading in bank shares has been volatile this week.
The Stoxx Europe banking share index tumbled 7% on Wednesday.
In the US, shares in both small and large banks were hit, helping to push the Dow down almost 0.9%, while the S&P 500 fell 0.7%.
The UK's FTSE 100 fell by 3.8% or 293 points – the biggest one-day drop since the early days of the pandemic in 2020.
"This banking crisis came from America. And now people are watching how the whole thing could also cause problems in Europe," said Robert Halver, head of capital markets at Germany's Baader Bank.
"If a bank has had even the remotest problem in the past, if major investors say we don't want to invest any more and don't want to let new money flow into this bank, then of course a story is being told where many investors say we want to get out."
Source: BBC