The local waste company in Odder, Denmark, has found an innovative way to reduce the amount of garden waste that has to be transported and processed into compost: they work with local schools to turn it into brush fences for the community.
Not only has this saved the municipality an estimated €27,000 in transport costs in the first year, but by saving the fuel normally needed to transport the waste, they could eliminate up to 133 tonnes of carbon emissions.
The idea has become so popular that six other municipalities across the country have decided to follow suit.
This is the exact aim of a program initiated by the Nordic Council of Ministers in 2021 to increase the adoption of nature-based solutions to combat climate change and reverse the loss of biodiversity across the Nordic countries — a key feature in the plan to become the most sustainable region in the world by 2030.
Answers can be found in nature-based solutions
Like the brush fences, nature-based solutions are a way of increasing resilience for both people and our planet through nature — and they are a highly effective means to achieve both.
about:blank
According to research from The Nature Conservancy and 15 other institutions, nature-based solutions can provide up to 37% of the emission reductions needed by 2030 to keep global temperature increases under 2°C.
In Norway, this also means combatting erosion to help save lives.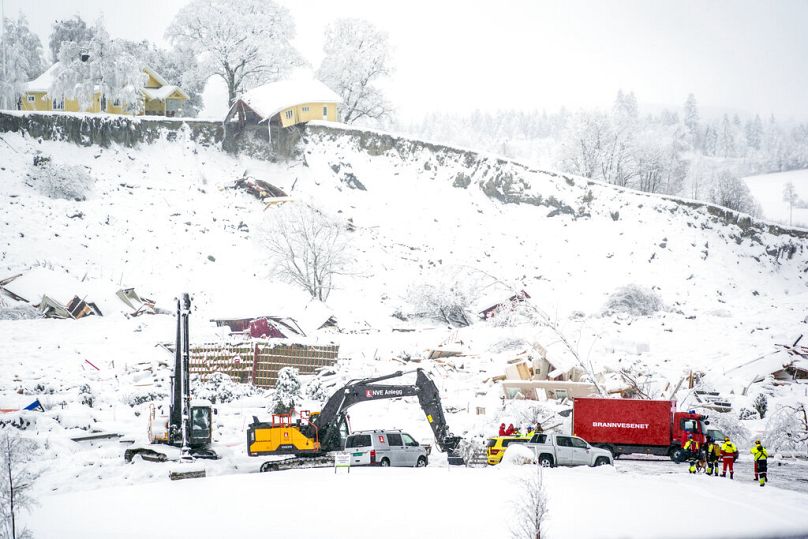 Each year, we experience two or more landslides, and some of them have been devastating. 
To combat this, The Norwegian Institute of Bioeconomy Research (NIBIO) is leading a project to prevent further erosion by strengthening the slopes and edges around the country's streams and rivers.
While stone and concrete could achieve a similar result, NIBIO is investigating how increased vegetation could strengthen the slopes while also preserving water quality and promoting biodiversity.
Action on the ground relies on proper financing
The passage of the landmark Kunming-Montreal Global Biodiversity Framework at the end of 2022 made clear that climate change and biodiversity loss are interconnected challenges that must have interconnected solutions.
With the EU Environment Council meeting in Brussels this week, we would encourage them to add nature-based solutions to the agenda for future discussions.
Targets will be impossible to meet if we don't have the right financing in place to enable action on the ground.

Swedish climate activist Greta Thunberg arrives for a meeting of the Environment Council at the European Parliament in Brussels, March 2020AP Photo/Olivier Matthys

Analysis conducted by the Nordic Council of Ministers shows that policies across the region on nature-based solutions are inconsistent, with Norway being the only country with legally binding targets.

Incorporating clear guidance and binding targets for the adoption of these solutions in EU legal frameworks would help mainstream them in both policy and practice across the Nordic region and all of Europe.

However, even with the most ambitious biodiversity and climate targets underscored by the best intentions, targets will be impossible to meet if we don't have the right financing in place to enable action on the ground.

A 10-Point Plan to involve everyone

Norway is one of the over 40 countries globally that have signed on to the 10-Point Plan for Financing Biodiversity — a clear pathway to helping bridge the $700 billion (€663.6bn) annual biodiversity financing gap.

The 10-Point Plan emphasises the importance of taking a comprehensive approach to financing biodiversity, drawing on all sources of finance: public, multilateral and private, international and domestic.

Partnership with all sectors and all levels of society is needed to achieve the goals and targets of the global biodiversity framework.

Contestants in a bicycle race on a forest road between Mosjoen and Bronnoysund in Norway, August 2022JONATHAN NACKSTRAND/AFP or licensors

It also highlights the importance of ensuring that existing flows of public and private finance are realigned to improve the protection, restoration and sustainable use of biodiversity.

Furthermore, it underscores the particular role of international public finance in supporting developing countries to build a nature-positive economy.

The plan also makes clear that partnership with all sectors and all levels of society is needed to achieve the goals and targets of the global biodiversity framework.

Promise of a new generation

We believe a key aspect is to create more seats at the table for Indigenous peoples who have long been stewards of the land and local communities who are best placed to find local solutions to these global challenges.

Sami children, Karen Seline Eira and Inga Helene Anti Persen feed the reindeer at the reindeer kindergarten in Karasjok, Norway, February 2021Heiko Junge/AP

Local communities with eroding streams, like those across Norway, and the town of Odder, where 6,500 students delight each day in seeing the hedgehogs, birds, and insects that now call their fences home, are teaching us an important lesson.

They speak of the promise of a new generation learning to better balance our needs with those of the natural world around us.

Source: Euronews